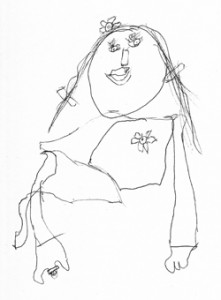 Ontwerpster Inge Stevens (1972) is opgegroeid in een klein dorp in Limburg. Haar vader was bakker en bracht haar de liefde bij voor het ambacht en de natuur. Ze volgde de docentenopleiding Tekenen en Schilderen aan de Akademie voor Beeldende Vorming in Tilburg. Na haar studie heeft ze nog even gewerkt op de educatieve dienst van safaripark De Beekse Bergen, waar ze veel leerde over de dierenwereld. Ze begon daarnaast met het geven van workshops voor jonge kinderen, tot ze terechtkwam in de media- en uitgeverswereld. Met Dick Bruna als een van haar inspiratoren, heeft ze het voorrecht gehad om gedurende enige jaren mee te werken aan het tot stand komen van diverse nijntje boeken. Nu ontwikkelt Inge tijdloze producten, krachtig in hun eenvoud, voor mensen die waarde hechten aan natuur, design en kwaliteit. Nadat ze jarenlang in het westen van het land heeft gewoond, keerde ze terug naar Limburg. Ze woont nu in Maastricht (maar wel aan de rand van de stad...).
Moos (2003) is geboren in Amsterdam. Ze houdt van katten en haar moeder is ontwerpster Inge Stevens. Moos woont nu ook in het prachtige Zuid Limburg.
SAMEN | Het delen van kennis en ideeën is voor ons heel belangrijk. Dat is waarom we graag samenwerken met jou om onze producten te laten groeien en 'een beetje buiten' te verspreiden.
---
Dutch designer Inge Stevens (1972) grew up in a small village in Limburg (The Netherlands). Her father, a baker, taught her about crafts and nature. Stevens studied at the Academy of Visual Arts in Tilburg. After a short career at several organizations Stevens ended up with Dick Bruna in 2004 in Amsterdam, where she developed a various of Miffy books. The simple, yet powerful style of Miffy suits her very well. Now she develops timeless products, powerful in their simplicity, for those who appreciate nature, design and quality. After living in the west of the country for years, Inge recently went back to Limburg. She now lives in Maastricht (but on the outskirts of the city...).
Moos (2003) was born in Amsterdam. She loves animals and her mother is designer Inge Stevens. Currently Moos also lives in the beautiful South of Holland.
TOGETHER | Exchange of knowledge & ideas is very important to us. That is why we love to work with others to flourish our products & share 'a bit of nature'.